Cyber Security descends on Manchester at the IP EXPO
Posted on 16th April 2019 by Adrian Stewart
Attending IP EXPO Manchester 2019, the North's largest enterprise IT event on March 26th, gave a valuable overview as to what's available in the market to combat cyber-crime, attacks and fraud.
The headline news featuring in Networking+ magazine (March 2019 edition) states that distributed denial-of-service (DDoS ) cyber-attacks could cost  the UK economy £1bn every year – a significant problem as we face growing economic uncertainty currently!
The article notes that according to the 14th annual Worldwide Infrastructure Security Report published by Netscout, the US headquartered security expert, in 2018, 91% of UK businesses surveyed said they had experienced a DDoS attack.
DDoS attacks infect a network and block users from accessing it for long periods of time.
On average, DDoS attacks last 67 minutes and cost business more than £2,100 per minute. Such cost relates to repair, reputational impact, loss of customers and operational expenses.
The report moves on to say that the tools to initiate DDoS are inexpensive, freely available and easy to deploy. In general businesses are not well equipped with cyber security expertise and outsourcing to specialists is the usual route when seeking remedies to combat cyber-attacks or provide fixes after an event.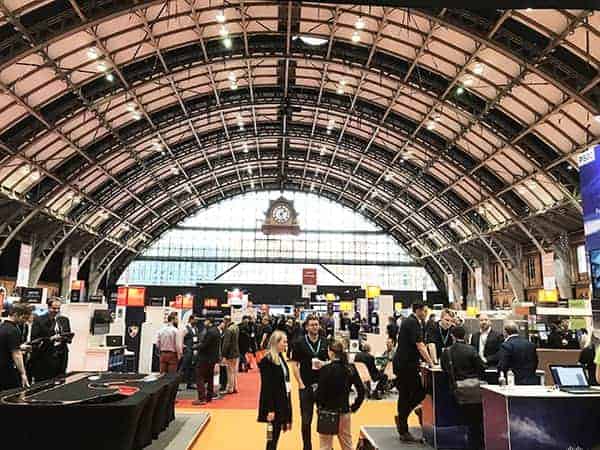 Manchester Central hosted the two day IP EXPO event with over 100 exhibitors, a number of key note speakers delivering excellent presentations to large audiences on a wide range of topics and debate panels available with experts on hand. With around 10,000 visitors expected, it shows the interest level in this sector and associated subjects.
Closer attention to cyber security needed
Whilst many say that cyber security is simply following good housekeeping procedures, being diligent about password usage and security and using mobile devices with care (they're right, in part, by the way) problems are out there that require closer attention.
It was mentioned to me in conversation by one cyber security expert that readily available online are guides on how to hack… and such sites showing this content are not illegal!
So, with those intent on damaging and breaching businesses' and individuals' IT systems and data, it is reassuring to know there are "Good guys" out there helping us all stay one step ahead of the criminals. Many of which were showing their wares or articulating solutions with gusto at the event.
Reading through a research document commissioned by Egress and independently conducted by Opinion Matters entitled Insider Data Breach Survey 2019 EMEA, I was astounded by some of the statistics that stood off various pages, with focus, naturally, on breaches that arise from within organisations either due to employee or contactor instigation.
A few examples:
Insider data breaches are a concern for 95% of businesses
Most data breaches caused by rushing and making mistakes, lack of training on procedures or on security tools, stealing for financial gain or leaking information to harm the business.
Disconnect issues between IT teams and employees a problem.
Startling misunderstandings over who actually owns company data. 60% of employees don't believe their organisation has exclusive ownership of data.
Accidentally sharing company data – blamed on lack of training, clarity of company policies and blaming mobile devices being the main reasons that problems arise.
Leaked IP, reputational damage, financial impact and loss of customers are the greatest areas of impact from insider data breach.
Tony Pepper, CEO and co-founder, Egress concludes by saying "By implementing security solutions that are easy to use and work within the daily flow… IT leaders can move from minimising data breaches to stopping them from happening in the first place".
Whilst agreeing with Tony's comments it's an unfortunate fact that many will not implement security solutions and the inevitable will happen. That said, even those with significant security in place can still be susceptible to cyber-attack and crime.
Caunce O'Hara offers insurance policies that can give comfort if the worst were to happen. Our Cyber Liability and Cyber Crime insurance is increasingly being acquired by SMEs as 46% of UK businesses have experienced some form of attack or breach.
For further information and a quotation for cyber insurance please call 0333 321 1403
---
Related Articles:
Insure your business against ever more sophisticated crime
Back to News