Whether you're starting out as a freelancer or you're already established in your industry, every so often it's worth assessing your marketing efforts to ensure you're on track to reach your goals.
Through both digital and traditional forms of marketing, you can demonstrate the unique services you offer, develop your brand and reach a wider customer base. All of which will help you to grow your business.
It's better to do a good job at a few channels than have a finger in every pie and spread yourself too thinly. After all, as the old saying goes, 'less is more'.
Besides that, you'll find that some channels work better for you than others, depending on your industry sector and who your target clients are.
Unlike a company, when you're freelancing, you won't have the backing of a marketing team but don't let this deter you. The channels available to you are just the same and most channels such as social media, email, blogging, SEO and PPC are user-friendly. Many service providers, such as Google, offer tutorials to help you understand the platform and guide you through using them.
If you're a freelancer in the creative industry, you'll already have an eye for engaging content and likely have the skills for creating and assembling social media posts.
Regardless of whether you're in the creative industry or otherwise, there are many online resources to help you, and who better to market your brand than you? After all, when you're freelancing you are your brand and therefore the person who knows it best!
Some marketing channels require big budgets which as a new freelancer aren't viable so in this blog, we'll focus on the basics of content marketing and some of the free services available to you.
What is content marketing?
Content marketing is the term used for marketing that involves the creation and sharing of informative online material that does not obviously promote a brand but is intended to generate interest in its products or services.
Done effectively, this type of marketing can deliver exceptional results and establish you as an expert in your field.
You can learn more about content marketing here.
1. Organic Social Media
Social media is the go-to platform for many freelancers and new business start-ups for their marketing for the simple reason that, most of us are experienced social media users.
There are some up-to-date UK stats here.
It's easy to push out sales content, but for these ever-evolving platforms, this isn't the best method. As algorithms alter, it's becoming harder to get your content seen. For anyone who is unsure, algorithms are a way of placing posts in a user's social media feed based on relevancy rather than the time it was published.
Technicalities aside, the fundamental principal to bear in mind is quality over quantity. With 42 million UK Facebook users, there's a mass of new content each day fighting to be seen. That's why it's essential to create posts that are memorable and provide something of value to your followers.
For example if you're a fitness instructor, can you share the successes of your clients and the journey leading up to achieving their fitness goals? This kind of content creation is more likely to gain comments and shares over a post stating your availability and rates alone.
Social media is the perfect place to build your community, share your work, speak to customers and provide updates. With the choice of Facebook, LinkedIn, Twitter, Instagram, YouTube, Pinterest and Reddit to name a few, you need to work out which of these will best help you reach your audience.
If you have a Facebook presence, it's worth investigating the Facebook groups. Groups bring together people who share a common interest. One of these groups could be made up of people who match your target audience. As members in groups tend to ask a lot of questions, you'll be able to helpfully provide solutions to questions and get yourself noticed.
Social media hacks:
• The first 30 minutes of a post going live will make or break it – the more engagement you receive early on, the more people your post will be shown to.
• Avoid outbound links where possible – social media platforms don't like these as they want users to stay on their platform.
• The best day and time to post on Facebook: Wednesday at 11am and 1pm.
• The best days and times to post on Instagram: Wednesday at 11am and Friday at 10-11am.
• Facebook videos: short form video – 15 seconds – and long form video – 3 minutes – get the most engagement.
• Use square video for Facebook, Twitter and Instagram feed.
• Use vertical video for Instagram and Facebook stories as well as Snapchat.
For more facts on social media, visit Sprout Social.
Use social to build business connections…
As a hub of working professionals, LinkedIn is great for networking and connecting with businesses you're interested in working for. Using LinkedIn, you can trail a month of Premium for free. Premium allows you to send five InMail messages per month which means you can reach out directly to individuals at the companies you'd like to pitch to.
2. Website
Having a website helps future customers understand who you are and what it is you offer.
While a website itself isn't content marketing, you can think of it as a home for your content. Your website can be the online portfolio that demonstrates your skills and convinces customers to choose your services or products over another's. As with buying anything, evidence of value is a deciding factor, so being able to back up your synopsis of skills with proof is beneficial.
Ensure you include an 'About Me' section or page.
People like to see good, genuine and likeminded individuals thrive, so by simply presenting who you are well you will increase your likeability and strengthen your brand. That's the advantage being a freelancer has over an established company; the story you tell is more personal and going it alone is evidence of your passion.
Overall giving your customers chance to learn more about you builds trust. Customers will enjoy discovering that you share the same interest as them or studied at the same university.
Make what it is you offer crystal clear.
Have you ever visited a website and in the first few minutes been unable to work out exactly what it is they do?
As a freelancer it's less probable that you'll have this issue as you are likely to be an expert in one chosen field. Nevertheless, it's key to clearly and concisely explain what you can offer and what is unique about your services.
Try to stay away from using 'good customer service' as a selling point. That's something people expect from every freelancer and isn't unique to you. Do however include bitesize quotes of positive feedback from previous clients and let this speak for you.
Whatever you say online, be careful how much you are promising. If you promise services that you can't deliver you could find yourself in hot water.
Keeping your branding simple and consistent.
Having the same font, layout and structure on each web page looks professional. Something as basic as having a website that's easy to navigate is vital to persuade users to stay on your website and continue browsing through your work examples.
At the top of your homepage can you include a personal motto that sums up your values or the principles you believe in? Have you won an award or achieved something you're proud of? Make sure you include these on your website as they help to build trust.
If you're creating a website yourself, a content management system like WordPress, Wix or Drupal is good to use. You can find tutorials online demonstrating how to use these. If you would like a personalised domain name, this will come at a small price. Rates vary from platform to platform.
3. Blogging
Blog writing can help build authority by demonstrating the expert knowledge you have in your field. It's another way of engaging your community and gives you more of an opportunity to be discovered by prospective businesses.
If you're a seasoned writing professional, this avenue of content marketing will be perfect for you. Writing is like exercising a muscle; the more you practice, the better you become. For that reason, if you're starting out as a freelance writer, blogging itself will build your skills and portfolio.
If you're a freelancer who isn't experienced at writing blogs, you could reach out to the online freelance community and ask for help.
Be as creative as you like
When working for clients, you're often running to a strict brief which can limit creativity. Blogging gives you free reign to be as creative as you'd like and write in whichever style you wish.
Blogging allows you to:
• Share your unique perspective
• Add value to the conversation
• Deliver informative content
Think about your audience. What would they like to read? What questions will they have that you can answer in a blog?
That way, if they type their query into Google and you have a blog answering that query, you'll have a greater chance of appearing in the search results. This is why you'll find that blogging improves your website's SEO. By clicking on to your website and reading your blog post, the reader will discover you and what you can offer them.
If you're able to gain backlinks (other websites linking to your blog), this will again improve SEO results.
Ways of doing this include sharing your content on social media, sharing your content with an online community or group and submitting your blog as a guest post on another website. With the latter, the website that your post features on will usually display a link back to your blog at the foot of the article.
While writing your blogs, do remember to follow SEO best practice. For more tips on this, try reading SEO Best Practices from Orbit Media Studios.
4. Email
Often for freelancers, your email list of contacts is crucial to your business. Email presents an opportunity for you reach customers directly and provide a personalised touch straight to their inbox without any algorithms or ads standing in your way.
You can use email to give updates to repeat clients, remind past clients of your services and to find new clients that will in turn grow your business. Even if a past client is not currently using your services, they're more likely to consider you in the future if you've built a relationship with them.
By using this form of marketing, you can build credibility with your audience and form stronger customer relationships. As well as that, it can strengthen your brand and demonstrate your professionalism.
Finding new customers is only half the battle. It's retaining customers that is the real challenge and email marketing can help towards achieving this.
Below is The Digital Marketing Hourglass, demonstrating the customer journey stages:
When comparing marketing channels, the average conversion rate for email is 6.05% in comparison with a 1.9% conversion rate for social media. According to a study by McKinsey, email is 40 times more effective than Facebook and Twitter combined in helping businesses acquire new customers.
Email marketing services like MailChimp offer a free plan that includes up to 2,000 contacts and 10,000 sends per month which is more than enough for a freelancer. It also includes templates which make creating your emails easy.
What can I include in my emails?
• Reminders of what you offer
• Examples of what you've been working on
• Updates on new services and promotions
• New blogs
• Industry news (if relevant)
• Standard welcome, follow up and thank you emails
Some freelancers may like to use a newsletter format however the choice is yours. There's no right or wrong way to present your updates. The most important thing to remember is to be friendly and to deliver content that's interesting.
With some email service providers, you can find out which links are being clicked in your emails and more specifically which readers are clicking which links. With these analytics, you can gather your readers into interest groups and send targeted content.
Be aware of GDPR and its rules
GDPR (General Data Protection Regulation) came into force in May 2018 to harmonise data flows between European union member states and bolstering the rights that EU citizens have over what data of theirs is held by organisations and how it is processed.
The definitive authority for GDPR in the UK is the Information Commissioners Office (ICO) at www.ico.org.uk
Subject line trick
For anyone who does not open your email, you can send the same email a few days later with a new subject line. This can increase open rates by as much as 25% in some cases. It's always worth trying different subject lines to see which work best in what's called A/B testing. Split your list into two and try a different email for each, you might be surprised by the results.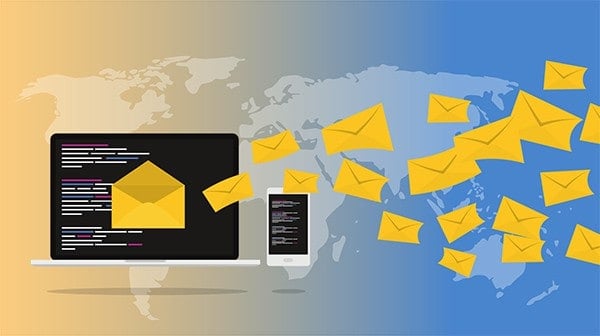 5. Podcasts
Believe it or not Podcasting has been around since the 1980s, but in the past few years its popularity has soared.
Through podcasting, you can connect with customers on an even more personal level and further establish yourself as a leader in your industry. Podcasts are wonderful for showcasing what you're passionate about and sharing your perspective. If you are interviewing other people in your field, you're effortlessly going to build a network of likeminded allies.
Be inspired by podcasts from other freelancers…
There are freelancers out there who are producing A* audio content. To help brainstorm ideas, give some of these podcasts a listen. This will help you work out what works well, what doesn't work well and how you'd like to position your podcast.
Freelance voice over artist and broadcaster Faye Dicker is a great example. Since establishing her podcast, Freelance Mum, in 2013 she has connected with many freelance parents and given them a platform to share their stories. Faye cleverly found a topic (parenthood), relevant to many freelancers, that wasn't already being discussed and used this to build a community. The podcast has even led to Faye running her own events which has further build connections for freelancers in the west of the UK.
Questions to consider:
• Are there other professionals in your industry you'd love to have a discussion with?
• Is there a gap in the podcasting market for your niche?
• Do you have tips to share with other freelancers or aspiring freelancers?
• If you're not ready to commit to your own podcast, is there a podcast out there you'd like to be a guest speaker on?
Another great benefit of podcasting is that you can slice and dice the content. Although the planning and production might be time-consuming, podcasting can save time by providing you with ready to use content for channels like LinkedIn, Twitter and your blog.
Podcasts are easier to create than you might think and require minimal technical ability. You can upload podcasts to iTunes for free but what you will need to invest in is a high-quality microphone. You can learn more on what podcasting entails here.
There are many more ways to market your skills and in turn see your client base flourish. We wish you only the best of luck with your freelancing and whatever you do make sure you're protected in case something goes wrong.
For your own peace of mind, call our award-winning team today for freelance insurance on 0333 321 1403
---
Related Articles:
10 Soft skills for every freelancer
10 freelancing traps you should try and avoid 
---