Caunce O'Hara's Legal Expenses Insurance provides you with £100,000 of cover (in any one claim) for legal representation costs in the event of an investigation brought against you.
The policy provides access to free helplines. These can help you with IR35 issues, tax advice, legal advice, business law and counselling.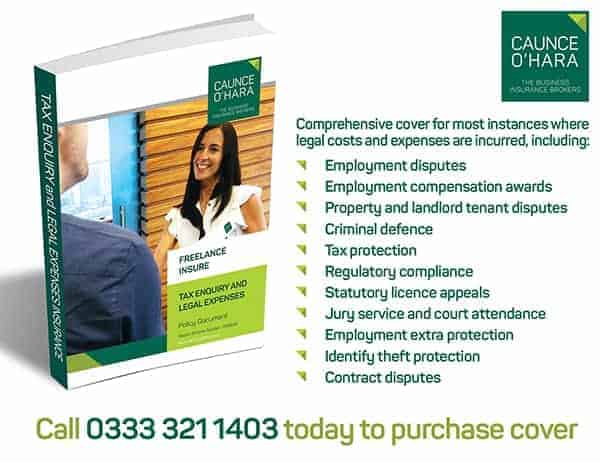 This policy provides a comprehensive level of insurance for most instances where legal costs and expenses are incurred, including:
Employment disputes
Includes compensation awards and employee civil legal defence costs and expenses.
Legal defence
Costs and expenses to cover the insured person's legal rights. These include: criminal pre-proceedings cover, criminal prosecution defence, data protection and information commissioner registration, and wrongful arrest.
Contract disputes
Arising from an agreement which has been entered into by you, or on your behalf, for the purchase, hire, sale or provision of goods/services.
Debt recovery
Recovery of money and interest due from the sale or provision of goods or services, also including the enforcement of judgments.
Personal injury
Covers costs and expenses for an injured person and their family members' rights following a specific or sudden accident that causes death or bodily injury.
Property protection
Including trespass, legal nuisance, any event which causes physical damage to your material property.
Tax enquiries and disputes
A tax enquiry, an employer compliance dispute, a VAT dispute, an IR35 dispute.
Identify theft protection
Cover for the victim of identity theft and for the costs incurred by the insured person. Cover for phone calls, faxes, and postage for communications with the police. Also covers costs to contact credit agencies, financial service providers, other creditors and debt collection agencies.
Statutory licence appeal
An appeal following a decision by a licensing or regulatory authority to suspend, alter the terms of, refuse to renew, or cancel your licence.
Jury service and court attendance
Performing jury service, attend any court or tribunal at the request of the appointed representative.
Some of these issues can leave you having to pay a lot of money if you do not hold this type of cover. Click here to purchase cover today for only £75.00 
The added bonus contractors can take advantage of
You can add a IR35 Contract Review to your policy. The review is aimed at defining your IR35 status in the eyes of HMRC.