This business insurance product is offered by our partners at Caunce O'Hara Insurance Brokers Limited. To find out more please visit www.cohibl.com or call 0333 321 1403.
---
Risk is a key part of our lives. As human beings we have needed to take calculated risks in order to develop and evolve… and the same ethos applies to business development.
In today's modern world of fast-moving digital technology, risks evolve quickly meaning companies are required to keep up-to-speed to ensure their risks are documented and managed effectively.
Risk management involves analysing, understanding and addressing risk to ensure companies and other organisations achieve their objectives.
The value in supporting good practice
Posing the question of the value of risk management very much depends on who is asking the question and what their previous experience may have been.
Clients are more likely to appreciate risk management good practices if they have already had a bad experience, such as a repudiated fire loss claim or entanglements with the HSE.
Promoting risk management
Often, we promote risk management using a lot of anecdotal evidence outlining where it went wrong previously for others and emphasising that by the time an accident or property loss has occurred it is already almost too late.
Raising awareness of policy terms and conditions is a challenge and ensuring compliance isn't always easy.
Particularly with regards to property loss, there are often conditions that might be used to repudiate the claim if there is non-compliance.
These may range from battery charging management to daily waste removal to electrical testing and physical security conditions.
The more reasonably worded policy conditions are actually an example of good risk management practice and are worth promoting anyway. Our risk manager has previous experience in writing these for insurance company underwriters.
Caunce O'Hara's own standard risk management advice is a good signpost to the meaning and content of many policy conditions ensuring compliance.
Compliance clearly reduces risk
Reducing risk helps build successful and thriving businesses so investment in good risk management practices makes sense.
Promoting risk management to an unwilling client is not always easy and where there are competing priorities in a business, or resource issues, it can be a hard sell.
Rational persuasion and awareness raising are key to improving the understanding of the client. A willingness to compromise and understand the businesses limitations and represent the client will help reduce risk, particularly where policy conditions need to be modified and agreed with an underwriter. However, the value of risk management is still difficult for many to understand.
Foresight is the key
If we are successful nothing happens… but when something unfortunate has happened, then hindsight kicks-in in some minds and risk management is under appreciated. Therefore, good forward planning is the key to managing business risk successfully.
This does not deter anyone working in this area because believing in promoting best practice will always in our view support businesses in the best possible way.
Near miss investigation often justifies this view and warns everyone that doing nothing is not an option and following expert risk management advice protects business and people.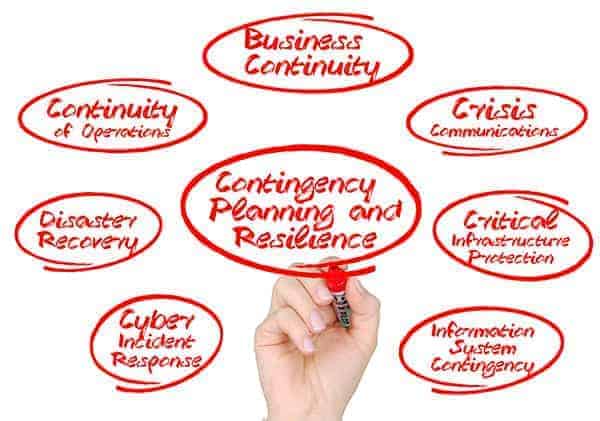 Key reasons why every business should implement a risk management plan
Risk management planning helps maintain consistent and efficient operations.
This results in more satisfied and happy clients/customers.
Resulting in a healthier bottom line.
Key reasons why every business needs risk planning
Risk planning enables a business to identify risks early and reduce them, or even eradicate them completely.
It protects a company's resources.
Helps to protect a company's people.
Risk planning is financially shrewd as it can help to reduce insurance premiums and reassure lenders when applications for extended credit lines and loans are submitted.
Ultimately, risk planning helps businesses to prepare for the unexpected, ensuring that all relevant company information and the process of disaster recovery is already in place, making any relevant insurance claim a lot easier.
Risk management as an ongoing business process
Risk management and planning is an ongoing process. As a company develops, grows and evolves new risks are potentially created. A sound risk management plan will enable a company to update and monitor any changes easily and efficiently.
The continuous process of risk management can be seen in the diagram below.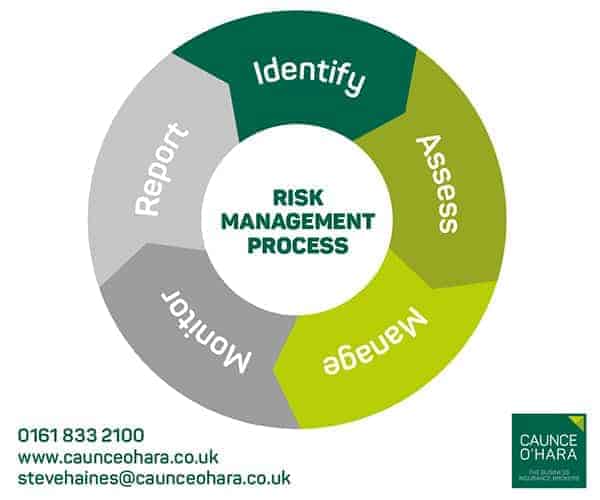 ---
Related Articles:
Why every business needs comprehensive business insurance
HSE enforcement on welders welfare
---
Author Steve Haines, Risk Manager at Caunce O'Hara Insurance Brokers Ltd