Economies across the world have struggled to recover since the Covid-19 pandemic. In the UK, the cost of keeping the economy afloat and helping businesses and individuals to survive was always going to bite as the government attempts to re-balance the country's accounts.
The constant rise in inflation has compelled the Bank of England to raise interest rates and issue a warning that the UK faces a two-year recession.
We look at what this could mean for businesses of all sizes, and how a recession can potentially affect the value chain and the business supply chain.
It is important to understand what a recession is, what the value chain is, and what the supply chain is, before looking to understand how a recession affects each chain.
What is a recession?
In economics, a recession is a period of temporary economic decline during which trade and industrial activity are reduced. This is generally defined by a fall in Gross Domestic Product (GDP) over two successive quarters.
According to data from the Office for National Statistics (ONS.gov.uk), during the last UK recession the UK's GDP fell by 6% between the first quarter of 2008 and the second quarter of 2009. The economy then took five years to get back to where it was (1).
A recession is one of four phases in an endless economic cycle, from growth to peak to recession to trough (the bottom of the recession) – and then back again (2).
Recessions can be triggered by inflation, which can cause a widespread drop in consumer spending. Also, by dramatic events such as financial crisis, external trade shock, adverse supply shock, an economic bubble bursting, and natural disasters or anthropogenic environmental disasters (e.g.: nuclear disaster, major oil spills, the European BSE crisis).
The recent Covid-19 pandemic is a typical example of a trigger that can cause a financial crisis and a subsequent recession.
What is the Value Chain? 
The Value Chain was developed by Michael Porter (3), an American academic who is known for his theories on economics, business strategy, and social causes. He first introduced the concept of the value chain in his 1985 book 'Competitive Advantage'.
He is credited with creating Porter's five forces analysis, which is instrumental in the development of business strategy, and is widely taught in marketing and economics courses.
The value chain addresses the fundamental logic of why an organisation exists by looking at how business inputs are changed into business outputs that have a greater value than their original cost, which generates the organisation's profit margin.
The simple formula for the profit margin is:
Value created and captured – Cost of creating that value = Margin
The way in which value chain activities are performed is what determines an organisation's costs and affects profits. It can also determine what a product will cost for the consumer.
Porter identified a chain of activities that are common to all businesses and divided them into primary activities and supporting activities, see the Porter's Value Chain diagram below.
There are nine key facets to the value chain. If one or more of those is weakened, for example via lack of resources or budget cuts, then this can have a significantly detrimental impact across the whole business, and ultimately impact on the margin.
What is the Supply Chain? 
A supply chain (4) is a network between an organisation and its suppliers who are involved in creating a product and delivering it to the consumer.
The links in the supply chain begin with the producers/suppliers of the raw materials and the links end with the delivery of the finished product to the end user.
The components of a supply chain can include producers/manufacturers, vendors, warehouses, transport and logistics, distribution, and retailers. The functions of a supply chain typically include product development, operations, finance, distribution, marketing, and customer service.
Supply chain management is crucial to optimising lower costs and for a more efficient production cycle. Companies constantly seek to improve their supply chains so they can keep costs to a minimum and remain competitive in their markets.
Now that we have a basic understanding of a recession, the value chain, and the supply chain, we can look at how a recession can affect a business.
The domino effect of a recession
Recession has negative impact across the whole business and its supply chain, and can start a domino effect that spreads quickly and reduces confidence, causing…
Decreasing demand for goods – During a recession many businesses and consumers will 'tighten their belts', meaning a reduced demand for goods, or the same demand but at a reduced price.
Reduced profits – This is due to the diminishing confidence the economy experiences when heading into a recession, and during a recession. In short, people buy less as they hold onto their money, because a recession makes a lot of things uncertain, including jobs.
Reduced cashflow – The third phase of the domino effect is significantly reduced cashflow because of reduced demand and reduced sales volumes. What can also happen is businesses extended their payment terms to their suppliers to hold onto their own cash as long as possible.
Tightening of credit – When the economy is struggling, lenders become more reluctant to support individuals and businesses. In some instances, lines of credit can be forcibly reduced by banks, which can cause significant problems for those businesses whose cashflow has slowed down.
Declining stock prices and dividends – During a recession, businesses of all sizes suffer. Companies that float on the stock exchange can see their share prices plummet, which can cause unrest among shareholders and potentially harm the reputation of a corporation and how it is managed.
Operational changes – One of the silver linings of a recession is that many companies are challenged to do more with less. This often forces companies out of their comfort zone and into making operational changes which can result in leaner, more efficient operations in the long-term.
As an example, during the Covid–19 pandemic, many restaurant businesses changed the way they work and began offering home deliveries. This is nothing new in the food industry, but for many fine dining restaurants, it was a step into the unknown that kept businesses afloat whilst yielding greater profits.
Employee layoffs – As the economy got smaller during the last UK recession, many people lost their jobs and employers stopped hiring as they looked to cut costs on the back of falling sales demand. By the end of 2011, almost 7 million people were looking for work, and quarterly unemployment rate reached 8.4%, its highest rate since 1995 (5).
Potential decline in product quality – As companies look to cut costs, they can be tempted to use less expensive materials, and even replace skilled staff with relatively inexperienced employees. When a company offers less product, but for the same price, it is called 'shrinkflation'. This particular point can be detrimental to a business. As consumers tend to value quality and durability, and a decline in product quality can result in a decline in the perception of value in the eye of the consumer, which can last long after a recession has ended.
Marketing constraints – When money is tight, typically the first budget that is cut is marketing. This usually stems from a lack of understanding of how important marketing is for business success. The reality is that the marketing budget should be increased – provided it is used effectively – to gain market share from competitors who are tightening their belts.
Price wars – Retail is a prime example of how a struggling economy can affect commerce. In a competitive market, businesses will significantly reduce prices to attract customers in what is known as 'a race to the bottom'. With a strong marketing strategy, a business should not need to lower prices by too much, especially if the business provides high quality products and services.
Consumers are extremely savvy, as a result once a business slashes its prices it is very difficult for it to return to higher prices and retain the same level of custom, which can result in long-term financial issues.
Potential loss of suppliers – Small businesses such as couriers or sub-contractors whose cashflow has slowed, or whose demand for their services has diminished, could find themselves in a position where they can no longer continue trading. This can cause problems further up the chain regarding goods deliveries and the supply of raw materials.
How can small businesses survive a recession? 
Media outlets arguably make recessions worse. Newspapers and news bulletins focus on the negatives when the economy is struggling, which immediately compels people to tighten their belts in fright.
Consumers buy less and businesses extend payment terms to suppliers and use up their valuable stock to reduce costs and orders. This approach causes problems for everyone and compounds the negative effects that a recession can have.
However, there are ways that small businesses can survive a recession, and even come out of it with a leaner, more efficient business and even with a broader client-base.
How to build a recession-proof business
Build cash reserves – One of the first effects of a recession is a slower payment schedule, which can stifle your cashflow. Try and build up your cash reserves while your business is doing well, to cover three to six months of trading expenses. This will help soften the blow to your business and to your clients who may rely on your services.
Pay off what you owe – If a large percentage of your business income has to go to pay off debts rather than operating costs, this could cause a problem during a recession. Clearing your business debts will relieve you of some pressure and free-up valuable cash for other business expenses. You could even look at refinancing some debts into longer-term agreements with smaller monthly payments. Trying to do this once a recession starts could be tricky, as lenders will be less willing to refinance.
Diversify your client-base – Analyse your sales for the previous one or two years. Does most of your revenue come from a small percentage of clients? If so, this could cause a problem for you, especially if those clients stop buying your products and services.
Diversifying will likely involve taking you out of your comfort zone, but it could improve your business fortunes, both short-term and long-term. In today's digital age, it has become easy for businesses to focus their market efforts on social media and online paid advertising.
However, there is still no substitute for face-to-face networking and developing strong business relationships. Developing a referral marketing strategy can help you survive an economic downturn and generate business for many years.
You might need to consult a marketing expert to help you develop a new marketing strategy, but you will reap the rewards. One of the first areas where budgets are cut is marketing. This may well reduce costs, but it also reduces sales and overall business awareness to your target customers.
In an article by AdAge, they reported that businesses that cut spending during previous economic downturns lost market share and never regained it. They also went on to say that those that continued with their marketing spend, or even increased it, lost less market share and recovered quicker once the downturn had ended (6).
Stay in control of your receivables – Taking stock of your receivables is imperative to ensuring you have the cashflow to survive during a recession.
You must make sure you have contractual agreements in place with all of your clients. To ensure you are paid on time, you could insert a penalty percentage on any payments that are later than your agreed terms.
If your client work is of high value, then it is pertinent to take a deposit payment up front before starting any work. This will keep your cashflow smooth and ensure you both maintain a vested interest in the work.
Before you offer credit terms to any clients it is wise to check their credit records first. You can check a company's credit report using services such as Dun & Bradstreet and Experian. These services require a fee, but the fee is small compared to your potential losses if a company leaves you with thousands of pounds of outstanding payments.
Make it a priority to collect all of your overdue invoices. You've delivered the goods and services; therefore, you are due the payment. Letting overdue payments continue could result in some of those businesses struggling to pay you at all if they end-up in administration.
Take greater control of your costs – When times are good, many businesses will spend more money in order to make more money. This approach can make it difficult to build up cash reserves, therefore it is important to control your spending and take advantage of the best value on the market for any goods and services you purchase. A good rule of thumb is to ask yourself "do we really need this right now?" If the answer is no, then hang onto your money until you do need it.
Look for new opportunities – There are many opportunities you can take advantage of in a recession that wouldn't normally be available to you.
Keep an eye on your competitors – If you advertise your services, especially online, you'll likely be up against your competitors. You may see less of their advertising during a recession, if that's the case you can steal some market share simply by continuing your existing advertising expenditure.
Sell or rent – If you have a large office, or warehouse space, or unused computers, you could sub-let your space to other micro businesses and even sell your unused hardware to raise extra funds.
Look at your internal operations – A recession is a good opportunity to look at your own in-house processes and streamline your operations and remove any wastage. Doing this will make your business leaner once the recession has ended and will help you to recover quickly.
Explore new markets, create new alliances or adopt an acquisition strategy – A recession can be an unfortunate time for many businesses, but this can open up opportunities for other businesses to grow via strategic alliances and even acquisition.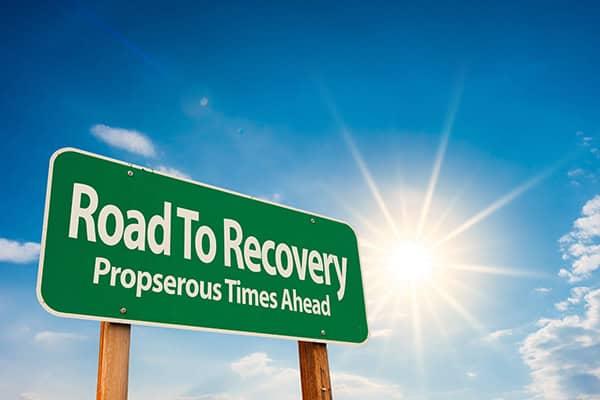 Can business insurance help during a recession?
Both large and small businesses are affected by recessions, just on different scales. It is important to ensure you continue to hold the correct levels of insurance, and maintain your monthly premiums, to protect your business assets, including: your staff, property, equipment, cash, furniture, vehicles, and of course your customers.
Don't be tempted to apply budget cuts to your insurance, either by cancelling policies or reducing the levels of cover to reduce your premiums. If you do and something goes wrong, if you're not adequately covered you could inadvertently place your business in a worse financial position.
Some key insurance policies to protect your business include:
Office insurance – There is a range of covers available to you, including buildings and contents insurance, business equipment cover, and business interruption insurance, all of which combine to comprehensively protect your property and assets against a multitude of risks.
Public liability insurance – This is a vital form of business insurance if you deal with people, including your customers and your suppliers. The policy will respond to cover claims of accidental damage to property and claims that you caused an accident which caused an injury to someone.
Employers' liability insurance – This is a vital form of cover to protect your staff. If you employ people, you must hold this insurance as a legal requirement, with a minimum of £5 million of cover. Employers' liability will cover claims from an employee who has suffered an injury or illness as a result of their work for you.
Professional indemnity insurance – Professional indemnity claims can rise when money is tight due to suppliers reducing their resources to cut costs and maintain profit margins. This can result in mistakes occurring, which can cost the client extra money to rectify, which can give rise to a formal claim.
Legal expenses insurance – The legal expenses insurance policy can provide cover for legal fees incurred when defending instances that some liabilities insurances do not, such as employment disputes including awards of compensation; criminal prosecutions; property disputes and disputes with your landlord; certain tax investigations; regulatory compliance such as data protection defence and compensation; jury service and court attendance costs; and contractual disputes for goods and services.
During a recession there is likely to be an increase in bad debts due to late payments across the whole supply chain. Whilst the legal expenses policy does not specifically cover bad debts, if there is a breach of contract in relation to goods and services, then this can give rise to a legal expenses insurance claim.
If you hold a legal expenses policy with us, you have access to Markel Law Solicitors 365 days a year, 24/7. You also receive access to the online Business Hub, which contains a multitude of useful guides, legal document templates, and links to help you run your business more effectively.
It is important for all businesses across the supply chain to communicate clearly with each other. This is especially important when times are tough. If each business knows, then they can help each other, for example via extended payment terms. Clear communication and understanding can help to make the business relationship stronger in the long run.
Click here to find out more about our business insurance.
---
Related articles:
How could the 2022 mini-Budget affect the self-employed and small businesses?
---
Sources:
https://www.ons.gov.uk/economy/grossdomesticproductgdp/articles/the2008recession10yearson/2018-04-30
https://www.fidelity.com/learning-center/smart-money/what-is-a-recession
https://www.mindtools.com/pages/article/newSTR_66.htm
https://www.investopedia.com/terms/s/supplychain.asp
https://www.bhliving.co.uk/2018/05/01/economy-the-2008-recession-10-years-later
https://www.moneycrashers.com/protect-small-business-recession/
www.rrinsurancegroup.com/2022/08/16/business-insurance-during-recession
https://www.fundingcircle.com/us/resources/8-strategies-managing-a-business-during-a-recession/
www.trionworks.com/7-ways-to-protect-your-business-from-recession/
https://www.profitableventure.com/strategies-survive-a-recession/
https://www.netsuite.com/portal/resource/articles/business-strategy/recession-impact-business.shtml
https://www.investopedia.com/articles/economics/08/recession-affecting-business.asp
https://en.wikipedia.org/wiki/Recession
https://www.bbc.co.uk/news/business-58090533
https://www.bbc.co.uk/news/business-52986863
https://www.isc.hbs.edu/strategy/business-strategy/Pages/the-value-chain.aspx
https://en.wikipedia.org/wiki/Michael_Porter
https://adage.com/article/news/cutting-ad-spending-recession-hurts-brands-long-term/135790