Guest blog by Mike Pye, Founder and Managing Director of the Manchester-based marketing consultancy, Mike Pye + Co.
Today, LinkedIn has over 500 million members, 260 million of which are logging in each month. There's no doubt about it, this business networking platform contains sensational potential as a growth tool.
However, to truly leverage its sophisticated advertising features, expert help is essential.
The following article will help you get the most out of this supercharged networking tool so you can bolster your brand's awareness, increase engagement and expand your customer base with quality leads.
Is LinkedIn advertising worth the investment on an SME budget?
When it comes to advertising on LinkedIn, many of us grumble at the expense. It usually costs between £1 – £4 per click, but with good reason. The potential ROI is huge when compared to other social media sites.
As marketing author Guy Kawasaki puts it: "Facebook is for show, and LinkedIn is for dough." 
The high-value rests within the platform's ability to target potential customers.
Where else can you easily put your content directly in front of key decision-makers?
Also, consider how B2B businesses have higher price tags on their offerings compared to B2C companies. LinkedIn knows how much it's worth and set its prices to reflect this.
Advertising through this social network is worth the outlay BUT only if you have an excellent campaign.
Let's take a look at what you need to do to achieve this.
Define Your Objective
A successful campaign begins with a measurable objective.
What do you want to achieve? Increased lead capture? Brand awareness? Engagement?
Whatever your objective, you need to quantify what success looks like, so you can accurately measure the performance of your campaign and gain insights that will help you refine and improve the next one.
It works like this:
Let's say you're going to measure success by the number of leads captured. To work out the magic number, you need to calculate how many leads are needed to make a return on your budget.
The first step is understanding what your conversion rate is and the return your campaigns will generate to do this.
Here's a simple calculation:
Marketing spend: 10%
Leads required: 10
Conversion rate: 50%
Contract value: £1000
Target: £5000
Total campaign budget: £500
Clients Required: 5 at £1000 each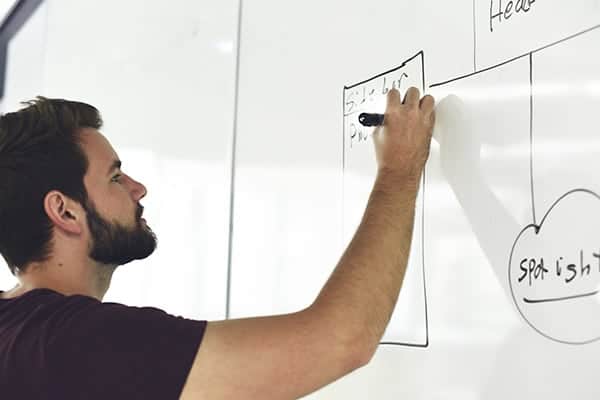 Knowing the above calculation means you can grasp how many qualified leads you need to reach your campaign's target.
You can then determine how many clicks you have to generate using LinkedIn – based on the conversion rates of your ads – to deliver the required number of leads.
This knowledge is vital: it allows you to continually tweak and improve your ads to ensure you are achieving the best results. But the work doesn't end there.
LinkedIn Lead Generation Tips
Contagious Content

According to FactBrowser, "B2B marketers who create great blogs generate 67% more leads per month than those who do not."
Top-quality content that engages, entertains and educates prospects at every stage in the buyer funnel is the ticket to lead conversion. To generate such collateral, you need a solid content strategy that considers:
Your buyer personas and their individual mindsets (current problems, attitudes, situations, etc.)
Industry trends (what topics can you jump on that are popular right now?)
Your business' value proposition (what makes your products or services stand out?)
Your company culture (why are you a great company to work with and for?)
This gives you the fuel to generate compelling ideas for your content. The next step is crafting quality copy.
If you don't have an in-house copywriting expert, it's well worth investing in external support. Because it doesn't matter how great your ideas are. If your content isn't well-written or engaging, your marketing campaigns will fall flat.
Getting Your Content Out There
Lead generation forms provide an effective way to distribute content.
What's a lead gen form? Usually, after a user clicks on an ad, they'll be taken to a landing page which features a contact form. This is how you get prospects to fill in their contact details in return for an offer, like an event sign-up or content downloads, such as a downloadable guide, eBook, whitepaper, video or webinar.
The beauty of LinkedIn for lead gen is that you don't have to build an expensive landing page to host your form. Instead, a user can access and fill the lead gen form without ever leaving the platform. You can create your forms here.
To save even more time, the form auto fills key information from a user's profile, making it much easier for your prospects to access your content. The result? You get more leads.
Be Specific About Your Targeting
If your ads are strong and your content is high-end, you will quickly start to capture leads.
However, you need to monitor engagement to ensure you're capturing the right prospects for your business.
Attracting the wrong people? It's time to refine your targeting. LinkedIn helps you do this easily. The platform allows you to upload existing audience lists so you can tailor your campaigns and target people who are most likely to buy from you.
Continually Optimise Your Ads
As well as monitoring your leads, you need to regularly check-in on how your ads are performing. Some will elicit more engagement than others; knowing which ad is best helps you allocate the right budget so you're not wasting money and can reap the maximum ROI.
Success Doesn't Come Overnight
The leads you generate from LinkedIn are usually top of the funnel: people at the awareness stage in the sales cycle who aren't necessarily ready to buy.
You've piqued their interest through your content and they now know you as a brand. Keep communicating with these leads and churning out engaging content to help them move along the sales cycle. So, when they are ready to buy, your business will be front-of-mind.
As you can guess, this isn't a short process. With occasional exceptions, it takes time to see results. Give it a month or more before you decide if LinkedIn is the right advertising channel for you.
Keep The Conversation Going
Don't let your leads die. Neglect to follow up and they'll probably forget about you.
Ensure they're in your database and linked to relevant marketing campaigns so they continue to hear from you.
For instance, give them a call at the right time to connect with them personally. Sure, a lot of your marketing is automated to keep the wheel turning. But email blasts aren't enough.
Use your email marketing data to identify your warmest leads – who engages with your marketing collateral the most? View your opens and clicks to find out.
Also, your non-openers are worth following up too. Perhaps they are a high-quality lead, but your email got lost in their junk or they inputted the wrong address details. You could resend the email and also use a verification tool like BriteVerify to filter for duds.
Back Up Lead Gen Campaigns With Brand Awareness
Success on LinkedIn relies on a two-pronged attack.
Using ads and sponsored updates to expose brand messages and broadcasting top of funnel content to an audience to gradually 'warm them up' will ensure you're making the most of this platform.
You might need a bigger budget to do this, but it does improve the likelihood of lead capture. Plant the seed with compelling content and get them used to your brand and the value you bring.
Continually use LinkedIn's analytics to learn what type of content makes your audience tick. Then you can perfect your lead capture campaign. Your reward? A higher conversion rate for your efforts as you simultaneously benefit from wider brand awareness.
How Will You Wield This Power?
There you have it: game-changing tips for profitable LinkedIn lead campaigns. What are waiting for? Those leads won't convert themselves. We'd love to hear about the success you experience using what you've learnt in this blog.
About the Author
Mike Pye has been working in the marketing industry for over a decade. He is the founder of Mike Pye + Co, a marketing consultancy comprised of an elite team of professionals from copywriters and website developers to art directors and email marketing specialists. Their clients benefit from one-on-one bespoke support, unparalleled creativity and access to the business' premium partners.
---
Related articles: