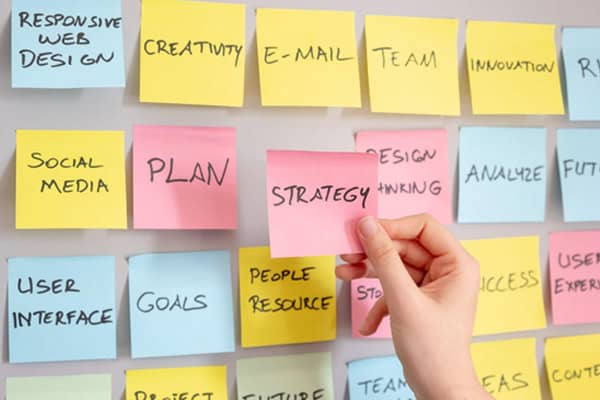 When setting up a small business, getting your brand out there can seem like a daunting task. It can feel like your to-do list is never ending and there are all sorts of ideas running through your mind about how to put your brand in front of the right audience.
Building a strong (online and offline) presence is important, so below, you will find our 10 recommended marketing strategies for a small business. Whether you choose to try just one or two or all of them is up to you, but it should give you the inspiration you need to get your brand noticed.
10 marketing strategies for a small business
Our top 10 marketing strategies include:
Understand your target audience
Create achievable goals
Make the most of free tools
Set up relevant social media channels
Set up a good website
Use email marketing
Set up a YouTube channel
Have a blog on your website
Network with relevant people
Track your strategies
Read on to find out more information about each of these things.
1. Understand your target audience
Before you jump straight in and start marketing your small business, it's important that you understand your target audience. Who is it that will be buying your product or service? For example:
Where are they based?
How much do they earn?
What kind of person are they?
How old are they?
What are their interests?
What electronic devices will they be using to interact with your brand?
Why are they buying your product or service?
These are just some of the questions you can ask about your target audience. To come up with the answers, you may wish to complete some market research in order to create some customer personas.
2. Create achievable goals
Once you know who will be buying your product or service, and why, it's time to set some achievable goals. The key word here is 'achievable' ‒ the goals must be attainable and not too farfetched or out of reach.
Your goals may well vary, from specifying the profits you would like to see each year to setting the number of followers you'd like to gain on a certain social media channel. They could be the smallest wins, such as getting your first customer, or they may be a bit broader and a bigger task, such as setting up a website.
Some people find it's easier to split goals into certain time periods, so one-year, two-year and five-year goals, for example.
3. Make the most of free tools
Anything that's offered to you for free should be grabbed with both hands, particularly when so many marketing strategies can involve a hefty cost. Luckily, there are some marketing tools that you can utilise that don't cost a thing.
To schedule social media posts ahead of time, you can use tools like Buffer or Hootsuite. These tools offer a basic free package, with the option to upgrade your package for a small monthly fee. When you're just starting out, however, the free package should have everything you need. You can write and schedule social media posts for Facebook, Twitter and Instagram ahead of time.
To create your own marketing paraphernalia, from business cards to social media graphics, e-newsletters to logos, and posters to videos, you can use a tool like Canva. It's easy to use and offers lots of free templates that are pre-designed for you, ready to use and modify according to your own branding.
If you plan to set up a blog on your website, you may want some content ideas to get you started, and a tool like a Content Idea Generator could help you out. Not only can this give you ideas for the blog, but also for your social media posts.
Finally, a tool like Google Analytics will be invaluable to you. This free analysis tool will provide you with information like how many people have visited your site, what device they used, which pages they visited, whether they made a purchase (for ecommerce websites) and how they got to your site (direct, through social media, organically, etc.).
4. Set up relevant social media channels
Social media is an excellent marketing tool. Not only can you build your follower count and drive traffic to your website, but it can be completely free to do so. While it may take some time to get your channels up and running, the rewards will surely make it worth it.
However, you shouldn't set up too many channels and stretch yourself too thin. It can take a lot of time to manage each account, particularly if you want to post multiple times a day. Therefore, have a think about the channels that will work best for your business. If you're a freelancer who offers a service, such as a legal professional, you might struggle to find photos to post on a channel like Instagram. Therefore, Facebook or Twitter may be more suited to you. However, a photographer or someone who sells physical products may have more opportunities to post photos.
5. Set up a good website
Most businesses will require a website to show off who they are, what they do and more. It should be a place that tells potential customers all about you, your products and your testimonials and should house necessary information, including your contact details. Having your own site is particularly important because it's fully owned by you to do as you please, unlike your social media channels, which technically belong to the channels themselves, such as Facebook.
Organic traffic is exceptionally important for any business, and you'll be able to track conversions that occurred through your website, whether this be in the form of a purchased product, a filled in form or a clicked button.
Setting up a website can take time, but there are now many pre-built themes, making it a fairly easy task to do yourself. You'd need to purchase a domain URL, organise your hosting and get your site live.
Your site should be easy to use, with clear information and easy navigation. You may also want to spend some time looking into search engine optimisation (SEO) to see how you can best optimise your site for Google.
6. Use email marketing
Email addresses are invaluable for your business, because they're a way for you to directly contact potential or existing customers. You can create an email that contains any information you wish, and it will land straight in recipients' inboxes ready to be opened. Email marketing can result in increased conversions and leads, and people might even purchase a product directly through your email.
Building up an email list can take time, and it's really important that you adhere to GDPR practices regarding data protection. The best way is to offer your website users something in return for entering their email address. This could be a discount code that they'll receive, a free document on something you're an expert in, or something else. You'll find that your list grows steadily, and you can begin to send out promotional emails.
7. Set up a YouTube channel
YouTube is yet another channel that you can use to find your target audience and tell them about your brand. An artist might be able to film videos that show how they create their work, whereas a fitness instructor could do some demonstration fitness videos for people to follow along at home. YouTube can help to increase your brand visibility and may even drive traffic to your site or increase your social media following.
8. Have a blog on your website
Having a website that contains all the most important information about your business is great, but if you want to drive people to your site organically, it's a good idea to have a blog. A blog is a place where you can post industry news, company news, helpful articles, and more.
On each of these pages, you can include internal links that go to your product or service pages, or calls to action that encourage the user to complete a conversion, like sign up for a newsletter. It's just another way to market your small business, shout about what you offer and increase your visibility to potential customers.
9. Network with relevant people
Networking with relevant people, both online and offline, is a great way to grow your business.
Online, you can use channels such as LinkedIn to connect with people in your industry. Take the time to send invite requests to relevant people and, once connected, interact with their posts so they begin to take notice of you. You can also use this tool to share things about your own business – successes, new clients, new employees, positive news, new blog posts, and more.
In a digital world, it can be easy to forget the importance of meeting people face to face. Trade shows and industry events are a great way to do this, and can help you to meet similar businesses with similar goals. Interacting with competitors isn't always a no-go, and you may actually be able to help each other out occasionally. Take the time to understand what they do, who their target audience is and their USPs, so you can compare. You never know – they may be able to recommend you if they aren't able to do something for a client themselves.
10. Track your strategies
Not all of the above strategies will work for your business, so it's really important to track the ones that do work and are helping you to achieve your goals in a more efficient way. Your goals could be increasing traffic to your site, gaining social media followers or getting new customers, and the strategies you use should be having a positive impact on these things.
You should stop or reduce the amount of time spent on the least successful approaches, and put more effort into the ones that work.
---
Sources:
https://www.wordstream.com/blog/ws/2020/12/09/free-and-low-budget-marketing-ideas
https://blog.hubspot.com/marketing/small-business-marketing-guide
https://blog.hubspot.com/marketing/marketing-tools