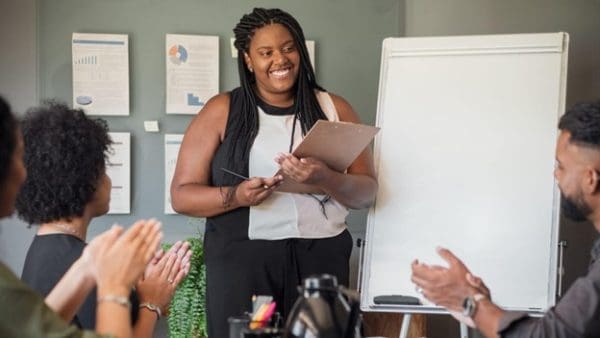 If you're just starting out as a freelancer, pitching may feel daunting. It can be hard to know exactly who to pitch to and what to say to make people consider using your services. But while it may not come naturally at first, this is a skill that many freelancers have to develop in order to succeed.
To help you get up to speed on this important topic, below we outline what freelance pitching is, why it matters and how to do it effectively.
What is a freelance pitch?
Pitches are a necessity for most self-employed people, including freelancers. In fact, because freelancers typically work on short-term projects, sometimes for multiple clients at once, these people tend to have to be particularly adept at this form of self-promotion. In contrast, contractors and subcontractors, who often work on longer-term projects, may have to pitch to new clients less frequently, meaning this might be a less pivotal part of their business model – though still important.
In its broadest definition, a pitch is an attempt to persuade a person or organisation to buy or do something. It could be written or spoken. In the case of your freelancing business, your pitches are a bid to get prospective clients to use your services. Many freelancers rely for the most part on emails and other written communications for their pitches, including social media messages and posts.
Your pitches should tell people who you are, what you have to offer and how your services can benefit them.
Why pitching is important
So, why is pitching so important for freelancers? The fact is, whether you're a nutritionist, photographer, IT contractor or any other type of freelancer, this type of promotion can be crucial to enabling you to earn a living.
Especially when you've just launched your venture and you can't rely on client referrals, word of mouth and retainer clients, marketing yourself effectively to new customers is vital. It may be the only way for you to find work and grow your business. In contrast, if you engage in general marketing campaigns and simply sit back and hope that clients will come to you, you might find you're waiting a long time.
Even if you've been operating for a while, if you have gaps in your schedule, pitching could play an important role in helping you to fill your diary.
How to pitch yourself as a freelancer
It's a good idea to think about your pitches as mini, personalised advertising campaigns – and there's an art to getting them right. Here are some pointers to help you perfect this aspect of your freelancing business.
Know who to pitch to
The first step is knowing who to pitch to. To give yourself the best chance of securing business, it's important to spend time upfront identifying the characteristics of your ideal clients. Consider the industries they operate in, what size organisations you're targeting, where they are located and how sizable their budgets are. You should also think about who within a business is most likely to hire you. For example, you may need to approach an HR team, a specific individual in senior management or the managing director.
Once you've established these points, make sure you focus your efforts on reaching out to the right people.
Put in the prep work
Especially when you're busy with other important tasks, there can be a temptation to rush pitches. But although it takes time, it pays to put in a decent amount of preparation before writing or delivering these bids. For example, if you're pitching to a business, ensure you know the exact nature of their products or services and have a good understanding of the industry they operate in.
Concentrate on the client's needs
Generic pitches that could be aimed at multiple similar clients don't tend to have the persuasive power of highly individualised messages, so it's essential to make sure you focus your pitches directly on clients' specific needs. By identifying the requirements that clients are likely to have and tailoring your solutions and selling points to address them, you can make yourself a much more compelling prospect.
Add a personal touch
The chances are, you're not the only freelancer pitching to the companies or individuals you want to work with. With this in mind, you'll need to really spell out to potential clients what makes you special. Take the time to personalise your message and to explain why you're the best fit. If possible, offer some examples or advice to clients that brings your services to life and gives them a clear idea of what you personally can do to help them. For example, if you're a marketing professional, you may be able to provide projections on how many extra leads you would expect to bring into the business, or give examples of different promotional channels you could use that the company doesn't currently take advantage of.
You should also make sure you highlight your strengths as a professional. This could include mentioning your qualifications, any memberships of or accreditations by professional associations, and the freelance insurance policies you have in place to protect you and your clients.
Promote your past work
If you have previous examples of your work, use them. Some clients may insist on seeing evidence of what you're capable of doing and many will be reluctant to take a leap of faith without having this evidence to draw on. For this reason, it's important to have a professional portfolio of work. You could share this in many different ways, such as providing a link to the relevant section of your website, attaching PDF files to emails or even sharing short videos that summarise your work.
On a related point, it helps to gather positive feedback from previous clients in the form of testimonials and reviews – and to make these a selling point in your pitches.
Start and finish strongly
You'll need to grab people's attention with your pitches, so make sure they have a strong opening. Don't start by simply listing your credentials and experience. A pitch isn't a resume. It should begin with a bang – quickly getting to the heart of how you can help the potential client to achieve certain objectives.
Similarly, always finish your pitches with a strong and simple call to action. This could be scheduling a free consultation, for example. At the very least, your pitch should provide contact details that give potential clients a convenient way of reaching you.
Follow up
Finally, don't be disheartened if your phone isn't ringing off the hook or your email inbox isn't inundated with messages on the back of your pitches. Getting the attention of individuals and businesses is often a process – and the initial pitch is just the first step. It's good practice to send follow-up emails or other communications to remind people of your services and hopefully spur them into action. Bear in mind there is a balance to strike here though. You don't want to go overboard with your follow ups and get a reputation for spamming.