Recent information released on August 2nd by OfCom highlights just how dependent on our mobile devices we are.
It is now commonplace to see people walking through the streets with their heads down, not looking at where they are going because they are transfixed by their mobile device.
78% of adults over the age of 16 have a smartphone, compare this to only 17% in 2008 it's a huge rise in electronic dependency. On top of that, 58% of adults over 16 have a tablet.
71% of the people OfCom surveyed say they never turn off their phones, with 78% saying they couldn't live without it. While three-quarters of the British public still regard voice calling as an important function, 92% said web browsing was crucial.
This level of life dependency isn't isolated to people's personal lives, it is prevalent in their working lives too.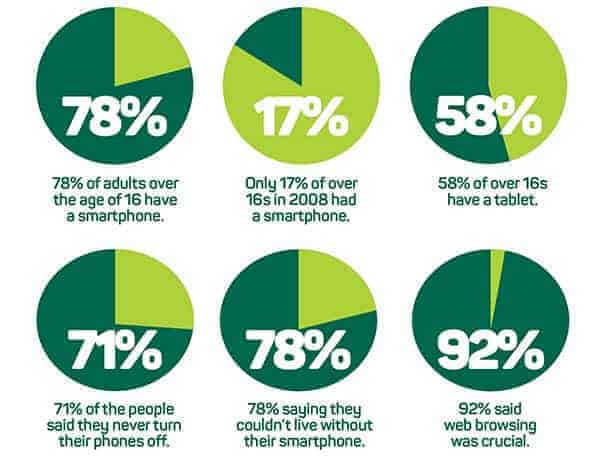 Working on the move
If you work on the move, you'll no doubt carry your office in your laptop bag. This could include your laptop, tablet, smartphone, cables, removable storage devices and cameras.
How would you feel if you accidentally left your bag and all its contents on a rail platform, or on the bus, or in a café? Even worse, your bag could be taken while you turn your back.
Claims such as these are commonplace, yet without the correct insurance the cost of replacing these items (not to mention the work stored on them) could run into thousands of pounds.
If you're self-employed and working as a freelancer or contractor, losing your portable equipment could result in your business coming to an abrupt stop.
This can be even more important if you undertake location-based projects such as: filming abroad or working as an offshore energy contractor on a rig. As an example, imagine being a photographer who is contracted to document life on an offshore platform and losing your camera overboard to the watery depths.
Losing your portable equipment could also expose you to other risks such as a professional indemnity claim if, as a result of losing your portable equipment and the work stored on it, you miss a client's deadline.
Check your business insurance policies to see if you are fully covered
Not all insurance policies provide full cover for your portable equipment as part of the policy.
It is also worth keeping in mind that if you work from home, your home insurance policy may not cover your business equipment either.
This can represent a big problem for business professionals who work in co-working spaces, or who need to travel with their work, or who are located in vulnerable areas such as those at risk of flash floods.
At Caunce O'Hara we offer equipment cover as standard. For as little as £112 per annum, you can benefit from £5000 office equipment cover, plus a further £1000 of insurance for your portable items, including mobile phones and cameras – call our friendly team today 0333 321 1403 for details.
Click here for a quick online business insurance quote
4 out of 5 claims we receive are for business equipment
It's a shocking statistic, but it's true. You could put your phone down, turn your back for a second, only to find it missing when you reach for it again. Or you could simply be working in a co-working space, or a cafe and knock your cuppa over your laptop or tablet and watch the screen fade to blank right before your eyes.
Minimise downtime and quickly get up and running again
As a part of our service, we are authorised to handle insurance claims in-house. This speeds up the claims process and helps us to get you up and running again as quickly as possible.
Claims for IT equipment are usually referred to CATS Ltd (Computer and Technology Solutions) who will collect and repair/replace your items as quickly as possible, saving you the hassle of obtaining quotes and organising the repairs yourself.
What items are covered?
This insurance will cover your Portable Electronic Equipment when working away from your own premises or based at a client's site. The insurance will cover accidental physical loss (including theft) or damage. You can also choose whether or not this cover is within the UK, Europe or Worldwide.
Examples of equipment covered:
Digital cameras
Hand-held mobile technology
Hardware and tools
Laptops
Mobile phones
Projectors
Printers
Video cameras and equipment
Level of cover available
The policy provides cover for electronic portable equipment from £1,000 up to a limit of £5,000 and is subject to an excess of £100 which means that you will pay the first £100 of any claim.  In respect of mobile phones the policy excess increases to £250 each and every claim.
To take advantage of this outstanding level of business insurance, call our award-winning Schemes Team today on 0333 321 1403 for a quote.
Click here for a quick online business insurance quote
---
Related Articles:
The 5 step claims process to stolen or damaged office equipment
Did you know how essential Portable Equipment cover can be?
---