Chancellor of the Exchequer, Rishi Sunak, announced the Spending Review on November 25th, which outlined the Government's plans for spending and investment in hospitals, schools and other public services for the financial year beginning in April 2021.
In the Spending Review, the chancellor also unveiled a set of fiscal forecasts for the economy, the main point of which is a predicted economic decline that the UK has not experienced for more than 300 years!
The Spending Review determines how much money will be spent on public services for the financial year. Anyone who utilises public transport, NHS hospitals, schools and any other services provided by the Government is directly affected by the Spending Review.
What is the state of the economy?
The UK economy has declined in 2020. The support provided by the Government to people and businesses throughout the Coronavirus pandemic has undone all of the hard work of the previous decade to reduce the national debt.
Typically, a Spending Review would cover three or four years of public spending, but due to the Coronavirus the Government decided to concentrate on the next 12 months from April 2021.
The Office for Budget Responsibility (OBR) forecasts the economy to fall by 11.3%.
As restrictions begin to ease, the OBR expects the economy to start recovering with forecasted growth of 5.7% in 2021 and 6.2% in 2022, but the economy is not expected to grow to pre-coronavirus levels until Q4 of 2022.
Increased borrowing and unemployment
Before the Pandemic the government was expected to borrow £55bn this financial year, but that figures show that this is already four times higher, with only 5 months of the financial year to go.
The UK is now forecast to have borrowed in the region of £394bn in 2020, that's the equivalent of 19% of GDP and is the highest borrowing ever seen. The borrowing has proven to been necessary and has enabled the provision of £280bn to help tackle Coronavirus.
The UK's underlying debt is forecast to be 91.9% of the GDP in 2020. Unfortunately, the OBR predicts unemployment will rise to 7.5% in Q2 of 2021. Which is approximately 2.6million people out of work.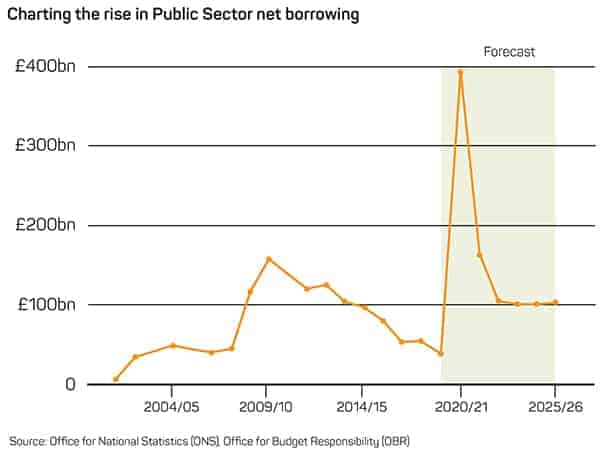 What funding was announced in this years' Spending review?
In 2021, total departmental spending will be £550bn. Among the other major announcements were the following:
Public Sector Pay
More than two million public sector worker earning less than £24,000 a year "will be guaranteed a rise of at least £250" according to the Chancellor.
More than a million doctors, nurses and other NHS workers will also benefit from a rise.
The National Living wage is to increase by 2.2%, to £8.91 per hour.
For the First time 23 and 24-year olds will qualify for the living wage.
Employment and Business
£3bn for work and pensions to help the long-term unemployed and deliver a programme to help people who have been unemployed for more than a year to find work.
£1.6bn for the Kickstart scheme to fund jobs for six months for young people aged between 16 to 24, who are claiming Universal Credit and are at risk of long-term unemployment.
A new infrastructure bank to be established in the North of England.
New levelling-up fund worth £4bn announced to fund local projects that have real impact and that are projects that commend local support.
The business rates multiplier will be frozen for 2021/22.
Health and Social Care
The Core health budget to grow by more than £6bn, allowing the employment of 50,000 more nurses, the construction of 40 new hospitals and the upgrading of 70 hospitals.
£1bn will be made available to tackle backlogs and enable delayed operations to the carried out.
£500m for mental health service in England.
An extra £300m grant funding for councils for social care.
in 2021, a total of £18bn will be spent on Coronavirus testing, personal protective equipment (PPE) and vaccines.
Defence and International Aid
£16.5bn increase in defence spending over the next four years was announced which will create 40,000 jobs.
New centre dedicated to artificial intelligence.
National cyber force to counter terrorists, organised crime groups and hostile states.
Overseas aid budget to be cut from 0.7% to 0.5% of total national income. A reduction of about £4bn in support for tackling global poverty.
The UK will revert to its 0.7% target in 2022/23, if the public finances allow.
Schools, Transport, Councils and Crime
Education will receive an increase in funding during 2021 of £2.2bn, (2.2% increase per pupil).
£2bn subsidies for the rail network.
£3bn in extra funding for local authorities, representing a 4.5% increase in spending power.
£250m for councils to tackle rough sleeping.
£4bn over four years to provide 18,000 new prison places.
£400m to recruit 6,000 new police officers by the end of 2022.
BREXIT
The OBR has estimated the UK's economy could shrink by a further 2.1% on top of the projected impact of Covid, if there is no trade deal with the EU.
It warned of "various temporary disruptions to cross-border trade" if current talks ended without an agreement, affecting growth for up to five years.
Trade deals with other countries, like the US and Japan, are "unlikely to compensate", it added.
Scotland, Wales and Northern Ireland
There will be a £4.7bn cash increase for the devolved administrations, which will include a £2.6bn fund to boost recovery from the effects of the Coronavirus pandemic.
Scotland will receive £2.4bn, Wales £1.3bn and Northern Ireland £900m.
As part of Scottish settlement, there will be £570m to support farmers, £14m for fisheries and £11m for regional growth deals.
How might this affect freelancers and contractors?
As the Spending Review covers public services, freelancers and contractors did not feature. However, any significant boosts in funding for public sector services can have a positive effect for the economy and provide many opportunities for the freelance contractor sector, especially in sectors such as information technology, construction, and consultancy.
No doubt, freelancers and contractors will welcome any increased opportunities after the terrible year they have encountered due to  the Coronavirus pandemic and the little level of support for the freelance sector as a whole.
---
Sources:
BBC.co.uk live broadcast of the Chancellor's Spending Review, 25.11.2020
Office of Budget Responsibility (OBR)
Office for National Statistics (ONS)
---
You can read about the 2019 spending round here
---