As a freelancer, you have the freedom to take on as many or as few clients as you like, but if you want to create a full-time career out of freelancing, you will need to grow your book of clients to ensure you have a regular amount of invoiceable work each month, so you can achieve the standard of living you desire.
The lucky few will land retainers with clients who have a lot of work to give, which can mean juggling fewer clients. For the majority, freelancing means maintaining an ample turnover of work from a cluster of happy clients.
Typically, when anyone starts out as a freelancer, finding enough work to fill the week can be a challenge. As your experience and awareness of your services grow, the number of clients you work for will organically increase.
Working around the clock isn't your best option
When given the opportunity, many freelancers will accept every work offer they receive. It's your chance to make a lot of money, so why wouldn't you?
Well, the risk of saying yes to every job is that you can end up working around the clock and burning yourself out which consequently affects your focus and the quality of your work.
Passion for your work and the thrill of seeing your business grow inevitably makes you lose the free time you initially went freelance for and as someone self-employed, you don't have people in a team to pass work onto.
These reasons are precisely why finding ways to be organised and managing client's expectations effectively are so important.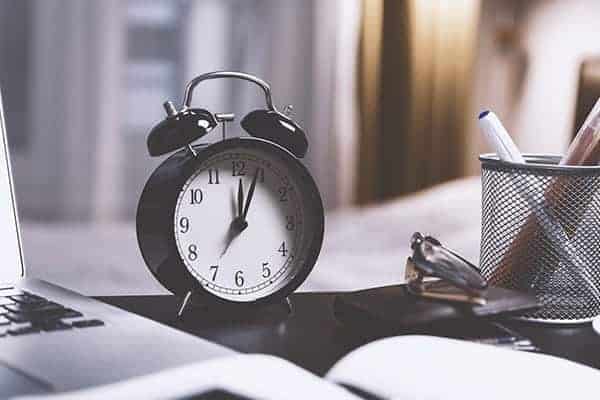 How one successful freelancer manages her workload
With 23 clients from independent names to big brands, PR and Marketing freelancer, Andrea Sexton, is a serial juggler. She explains her best bits of advice for keeping on top of your workload:
"Every Sunday, I plan out what I need to do for each client each week and put it on a big board above my desk and also on an Airtable planner."
"I then prioritise the order of work. I leave space for things that will inevitably come up and need sorting out – that's the nature of PR work."
"Every morning I review my big planner and write a day's list with timings on how long I'm going to work on each project. I track time using Harvest and I find Airtable really good for project planning."
As well as Andrea's helpful hacks, here's some other tips for staying organised, being productive and keeping on top of your workload as a freelancer.
1. Use a calendar
Utilising your online work calendar and creating yourself a schedule helps when you're multitasking. Plan ahead as much as you can, setting realistic and clear goals. Make sure you include everything in your project calendar; every meeting with a client and every project deadline.
This'll make it easier to stay organised and harder to miss deadlines. At a glance, you'll be able to see an overview of the weeks ahead and you'll receive automated reminders to keep you on track of things too.Calendars you could try using include Outlook, Google Calendar, Zoho and Calendly.
2. Use a project management tool
Using an online project management tool can be a great alternative to a post-it note explosion overpowering your desk.
Often used by teams, project management tools can be just as handy for individuals. It'll help you organise the projects you're working on more effectively and enable you to easily monitor your progress.
Project management tools are not for everyone but if you make the time to use them properly, it can streamline your workday and help you keep track of milestones.
Project management tools available include Asana (free), Trello, Airtable, Monday and Evernote.
Using Asana's free plan, you can create boards and lists. The premium version allows you to access a timeline and insights where you can add important milestones for the project and see the number of tasks that are complete, incomplete and so on.
With other project management tools like Trello and Monday, you can set priority levels on tasks, set deadlines, see your schedule in timeline viewand view your schedule in other formats such as in a table or graph.
You can track profitability and even make a 'board' to break down tasks in a project and share the board with your client so they can see your progress.
There is a free and premium version of Airtable, Trello and Evernote that you can use. Monday does not offer a free version but does provide a two-week free trial.
3. Prioritise
We all put things off sometimes, but when you're freelancing, delaying tasks for too long isn't an option. Putting things off only results in a buildup which eventually makes what you were putting off even more over facing. If you leave things to the last minute, inevitably it's going to leave you feeling stressed and under pressure. This is where prioritising comes into play.
Keep on top of your to-do list and list your tasks in order of deadlines and importance. Try using a RAG system to help you categorise what is a priority, highlighting anything urgent in red. Writing the task down means you can take it out of your mind and not worry about forgetting it.
You could also use the Eisenhower Matrix, which is a tool that was developed to help people prioritise projects and identify which tasks can be delegated or even discarded.
Try and get yourself out of the habit of completing the easy tasks firsts and leaving all the harder tasks till the end. Break the larger tasks down into more manageable smaller tasks.
Ticking tasks off a list can be satisfying and helps you feel like you're getting somewhere.
Here's some questions you should ask yourself when your deciding what to prioritise:
What tasks are urgent?
Which tasks are going to require a lot of your time?
What job is earning you the most money for time?
Which work do you like the most and want to keep on getting from clients?

4. Make sure you understand the job
Before you get started on any client brief, make sure the client has given you enough information for you to fully understand the scale of the job. Sometimes your expectations and understanding of something might be different to theirs.
If your client is expecting more from a project, or have the intention of extending the project, it might take longer to complete than you're anticipating and take more time than you've quoted for.
5. Manage expectations
A key part of maintaining positive relationships with your clients is communication. Make sure you keep in regular contact with clients, so they know where projects are up to.
Providing them with regular updates manages expectations and saves them having to chase you. This might be a weekly update if you're working on a long-term project.
If you have a phone call with a client to discuss a project, follow up with meeting notes for clarity on what they can expect and when.
Establish their preferred method of communication, whether that be email, phone or another business communication platform. Having shared access to a project management tool, so that your client feels more involved, is another option to consider.
Keeping your clients informed will make them feel at ease, build their trust in you and overall make you come across more professionally.
The smoother the customer process, the more likely the client is to use your services again.
6. Folders to organise communication from different clients
To make referring back to older conversations over email easier, make a folder in your inbox for each client. This can save time and stops you feeling over faced by a crowded inbox.
7. Smart scheduling for productivity
Is your focus better in the morning? If so, complete your more creative, concentration-heavy tasks in the morning and leave your admin and other more repetitive tasks for the afternoon so that your time is more productive.
Make sure the type of work and workload you're giving yourself matches your work style e.g. do you thrive under pressure and enjoy multitasking or are you a slower paced person who does best at concentrating on few better paid projects at a time.
8. Be realistic with your deadlines
Being realistic with your deadlines will make you appear more professional and reliable. If anything, it's better to overestimate how long it will take you to complete something, instead of overpromising.
Allocate a good amount of time for each project. Remember, clients want high quality work from you so make sure you give yourself enough time to turnaround excellent work that they'll be happy to pay you for.
If you aren't sure how long some tasks take, the next time you're doing the task, time yourself and make a record of it. Factor in time for emergencies too, in case something unexpected overrides your workday. Always be realistic about how many workable hours you can put in each day too.
9. Don't be scared to say no
If you're already drowning in a sea of work don't make the load even heavier by saying yes to more work. You are one person and you need to value the importance of your own mental wellbeing.
This isn't letting anyone down; it's being realistic and protecting your health and ability to work effectively. Rather than declining a project, you can let your client know that you have no availability right now but could start working on it in a few weeks' time.
The task might not be time critical and they might be happy to wait, but if not, there are other freelancers out there who'll be able to help the client.
10. Outsource
If you know you have committed to more work than you can handle, don't be scared to outsource. Outsourcing is a better option than spreading yourself too thinly and doing a poor job of something. It's inevitable that an overcrowded workload will sacrifice quality.
If you outsource during busy periods, it'll mean you'll have more time to do a great job of the projects you're focusing on and means you don't have to disgruntle any clients by asking for a deadline extension.
Overall it will be better for your wellbeing and create a better result for your client. Consistently delivering excellent results, on time, will help maintain a good reputation.
Even if you're not outsourcing to another freelancer to complete an entire project, you might want to give a section of that project or outsource other business tasks you don't particularly enjoy such as the bookkeeping or marketing.
An example could be hiring a proof-reader or a fact checker on an adhoc basis, which could be beneficial to you if you're a content marketer. After the 10thtime of reading an article, it's common to become blind to your own mistakes, so having some extra eyes to give your work a final check can be a huge help.
Find someone you trust who can hit the standards you want to achieve and don't be scared to give feedback, otherwise you could create more work for yourself.
11. Review your rates regularly
Have you ever considered that you're having to take on a stack of work to make ends meet because your rates are too low?
Low rates are useful when you're trying to build up your freelancing experience in the beginning, but they aren't sustainable long term. Make your unique selling point something else, like the high standard of output you offer. Give your clients something more to care about other than the price.
If a client comes back to you time and time again it is a good indication of the quality of the work you deliver, and they'll be more likely to stay working with you.
Even if you do increase your rates slightly, because your clients know what standard they can expect from you, they will likely remain loyal because it is easier than taking a risk on a new freelancer to deliver their projects whom they've never worked with, and who doesn't know anything about their business.
It might be time to review your rates and do less work for more money. Ultimately, your skills are sought after so you should get paid for the value you provide.
---
At Caunce O'Hara, we specialise in providing freelance and contractor insurance across a wide range of professions.
We wish you the best of luck with your freelancing and whatever you do make sure you're protected in case something goes wrong.
Click the button below to build a freelance insurance quote online in minutes!
---
Related articles:
The best invoicing apps for freelancers
Key points you should know to be a successful freelancer – part two
Budget 2020, what can we expect?
---
Sources:
---