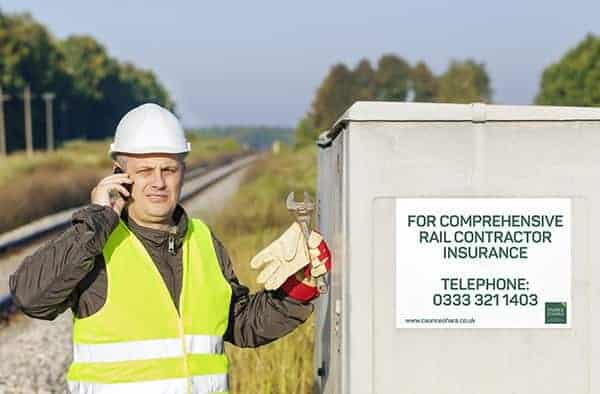 Caunce O'Hara are specialists for insuring UK rail contractors and specifically rail engineers. Our insurance scheme is widely regarded as one of the best in the market while also being one of the most competitive for premiums.
General acceptable criteria for cover include:
Turnover or fee income of less than £250,000 per annum (pa).
A maximum of 5 employees.
No claims, or circumstances that could give rise to a claim, in the last 3 years.
Need to be a UK-based company.
All UK-based work – no overseas exposure.
No previous insurance cancelled or declined.
Work as part of a team, with no sign-off responsibility for work undertaken.
Caunce O'Hara's rail insurance scheme offers cover including:
Public Liability Insurance – up to £5 million (with the option for £10 million of cover, which is referred to our underwriters and is dependent on the level of risk)
Professional Indemnity Insurance – up to £5 million
Employers Liability Insurance – up to £10 million
Personal Accident & Sickness Cover
Tax Enquiry & Legal Expenses Insurance
IR35 Contract Reviews for only £60.00 (available when purchased with the Tax Enquiry & Legal Expenses policy)
How does each policy help you?
Click here for a quick online railway contractor business insurance quote
Coverage is available for a wide range of rail professionals and is based on one of three levels of risk: Green indicates a low level of risk, Amber indicates a moderate level of risk and Red indicates the high risk rail professions. The level of premium for coverage will depend on which category your profession falls into.
The professions and categories can be seen below.
Green – lowest risk
Alternative transport officer
Area controller
Asset engineer
Cartographer
Catering logistics officer
Closed circuit tv CCTV operator
Communications and control systems engineer
Crew manager
Customer service attendant
Depot manager
Duty officer
Engineering technicians and draftspersons
Environmental scientist
Environmental engineer
Estimator
Facilities management officer
Freight liaison officer
Geotechnical engineer
Human resources HR officer
ICT manager and ICT project manager
Industrial relations workplace relations officer
Learning and development officer
Marketing officer
Multimedia specialist
Operations and service delivery staff
Payroll officer
Property manager
Purchasing officer
Rostering officer
Scada engineer
Station manager master
Stores clerk
Train monitoring officer
Train planner
Training officer
Transport officer
Amber – moderate risk
Chief engineer
Civil and structural engineering associate
Civil engineer
Civil engineering draftsperson
Civil engineering technician assistant
Civil engineering technologist
Construction project manager
Design engineer
Electronics and communications technician
Electronics engineer
Engineering manager
Engineering assistant
Fire officer
Investigations officer
Network controller
Operational engineer
Project manager
Project planner
Protection engineer
Radio communications technician
Setting out engineer
Structural engineer
Systems control engineer
Technical officer
Technical surveyor surveying technician
Telecommunications and control systems workers
Red – highest risk
Air conditioning and refrigeration mechanic
Assistant engineer
Boiler maker
Brake mechanic
Cable jointer
Construction workers
Electrical engineer
Electrical linesperson
Electrician
Electrolysis technician
Fitter and turner
Maintenance engineer
Mechanical engineer
Mechanical signaler
Mechanical trades
Metal fabrication trades
Panel beater
Rolling stock engineer
Sheet metal worker
Signal box manager
Signalling engineer
Substation electrician or technician
Track engineer
Vehicle body builder
If you don't see your rail profession in our list, that doesn't mean we can't provide insurance cover for you. Call our friendly award-winning team for assistance and a competitive quote on 0333 321 1403 or click the green button below.
Click here for a quick online railway contractor business insurance quote
---
Related Articles:
Which insurance policies are useful for engineers?