There are many benefits associated with working as a freelancer or being self-employed – and arguably one of the biggest perks is the ability to work from pretty much anywhere.
Whether you set up at a local coffee shop or head to a co-working space, you have the option to change up your work location – and since the pandemic began, the number of people choosing to combine work with short term travel – as a digital nomad – has skyrocketed.
There are a number of factors to consider when choosing. To help you decide, we've looked at locations around the world and ranked them using our own unique scoring system. We narrowed these destinations down to the top 15. Keep reading to find out how they performed, and to discover which one takes the top spot as the best place for short term remote working.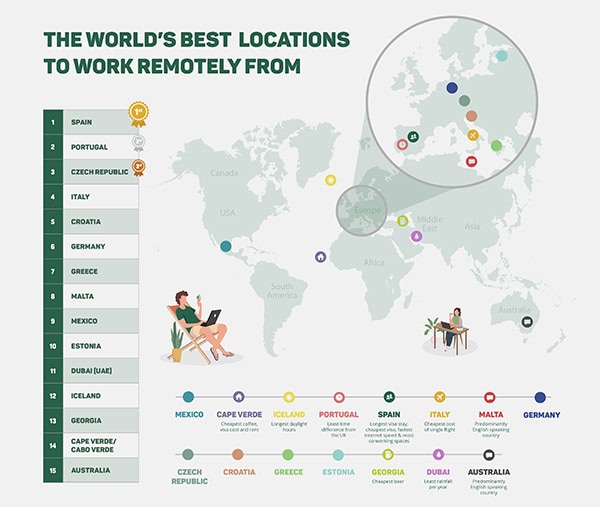 Our top scorers
So, which countries scored strongly? When we take an overall look at our map, there are some locations that stand out in certain categories.
For starters, Italy offers the cheapest travel route, with flights costing from £11 upwards.
Meanwhile, Portugal is in the exact same time zone as the UK, meaning there's no need to worry about adjusting to any clock changes.
When it comes to the practicality of remote working, Spain boasts the fastest download speeds of 154.73mbps across the country, which is faster than the UK's download speeds of 102.24mbps. And for those who like to work collaboratively, this European country is the place to be, offering the most co-working spaces too, according to data from Global Coworking Map.
Do you rely on a caffeine fix to get you through your working day? While the average price of a cappuccino is £2.88 in the UK, Cape Verde offers the most inexpensive coffee at just 86p a cup.
If post-work drinks are your thing, you'll get more bang for your buck in Georgia*, where draught beers cost an average of just £1.21 per half litre. In the UK, a beer will set you back £4 on average – that's nearly three times as much.
Working environment
Combining work with travel is a huge commitment to make, so it's important to ensure your new working environment is right for you.
For example, download speeds will play a role in your ability to work effectively. While Spain boasts the fastest download speeds, Portugal comes in at a close second, offering speeds of 111.85mbps, which is still faster than the UK. At the other end of the scale, Georgia* doesn't fare well in this department, with the slowest download speeds of just 25.35mbps.
If you thrive working in a collaborative environment, perhaps using a co-working space is best for you. According to data from the Global Coworking Map, the UK boasts 523 co-working spaces, and although Spain takes the top spot in this category, there are other locations that offer a high number of co-working spaces, including Italy, Germany and Australia. In contrast, it seems Iceland isn't the place to be for co-working. The Nordic island nation has the fewest collaborative workspaces of all the locations we looked at.
Time zones can impact working days too. While we know this is not an issue for remote working from Portugal, there are some locations where this could be a problem. For instance, depending where you are in Australia, the time difference can be eight to 11 hours ahead of the UK, which could make it difficult for workers to effectively communicate with clients who are based on home soil.
The good news is, there are plenty of locations where the time difference isn't a big deal. Germany, Italy, Czech Republic, Malta, Spain and Croatia are all just one hour ahead of the UK.
Spain takes the top spot overall for providing the best working environment thanks to its combination of high download speeds, large number of co-working spaces and other factors too, including long maximum daylight hours.
Ease of travel
In terms of travel costs, Italy takes pole position for the cheapest flights – but which other countries are affordable? You can travel one way to Croatia from London for just £15, while a flight to Spain would set you back as little as £21. Australia takes last place when it comes to travel costs. You can expect a single flight Down Under to set you back a whopping £1,181.
For freelancers looking for a longer-term stay, Spain and Cape Verde offer low cost visas, whilst Dubai in the UAE requires a staggering £304 for one of these permits, ranking this location in last place on this metric. Australia also carries a hefty remote working visa cost of £298, with Malta just slightly behind, requiring £261 for this entry paperwork. However, it's a significant commitment to work abroad for more than a few weeks; you'll need to comply with local tax laws and check your insurance will cover you (including your business insurance). Many insurers will be unable to provide cover for anything other than short-term working outside of the UK. Often applying a 60-day time limit. If you're a Caunce O'Hara customer and have any questions about this, feel free to call us on 0333 321 1403.
So, which location scores highest in terms of ease of travel overall? Our research shows that Spain takes pride of place in the top spot, ranking well across all categories.
Lifestyle
Combining work with travel can mean changes to your lifestyle and it's important to take certain elements of this into consideration – including the price of accommodation.
According to our research, the average cost of rent for a one bedroom apartment in Cape Verde is £224.81, making it the cheapest place to stay out of all 15 locations. Coming in second place is Greece with an average rent cost of £335.89.
Meanwhile, the average price of rent soars for locations such as Dubai, where the cost is £1,185.64. This makes the UAE city the most expensive place to live. Average rental prices here are over five times more expensive than in Cape Verde. Falling slightly behind is Iceland, where the average rent costs £1,153.49.
Overall, Cape Verde comes out as the top place to stay in terms of lifestyle due to its low rent costs. This is combined with the fact it also takes first place for offering the cheapest cup of coffee.
And the winner is…
According to our data, Spain is the best place for remote working. The country's low travel costs and high internet speeds were among the factors that saw it rank ahead of other locations.
If you were to #WorkFromAbroad, where would you choose? Let us know using our hashtag!
Methodology and Sources:
For the campaign, we created a unique scoring system and used a seeding list (Deel) and picked 26 countries around the world.
We chose several indicators to help us determine which of these countries are best for Britons to go and work remotely from. The categories and respective sources are listed below:
For most categories, each location was awarded a score between 1 – 26, with 1 being the least and 26 being the most favourable location. Some categories did not fit the generic scoring method, so they would have 10 points added or deducted.
Multipliers of x1, x2.5 and x5 were applied depending on how important a criteria is in determining the best locations to work from
Only the 15 top ranking locations have been included in the final list.
* By referencing Georgia, we are referring to areas excluding South Ossetia and Abkhazia.
Despite the scoring methodology and ranking, we recommend you always follow the government's travel advice to destinations.
---
Related Articles:
Essential co-working space etiquette
The rise and rise of co-working
Are co-working spaces right for your freelancing career
Making the most of co-working communities
The best co-working spaces in Manchester